Videoconferencing tool recordings
As of September 3, 2021, recordings that previously could be found within the video conferencing tool will automatically be integrated into the streaming campus virtual tool.
The transfer of information will be done progressively:
Stage 1 (september 3, 2021): Migration of recordings created until July 15, 2020 (prior to course 20-21).
Stage 2 (october, 2021): Videos recorded in the course 20-21 (July 16, 2020 onwards).
Stage 3: The transfer of information to Kaltura will be carried out periodically (monthly) with the materials generated from the 21-22 academic year.
From that date, by default each recording will be available during the semester in which it is recorded, and will be automatically deleted at the beginning of the next semester or course. If you want to keep a record without deleting you can follow the steps below: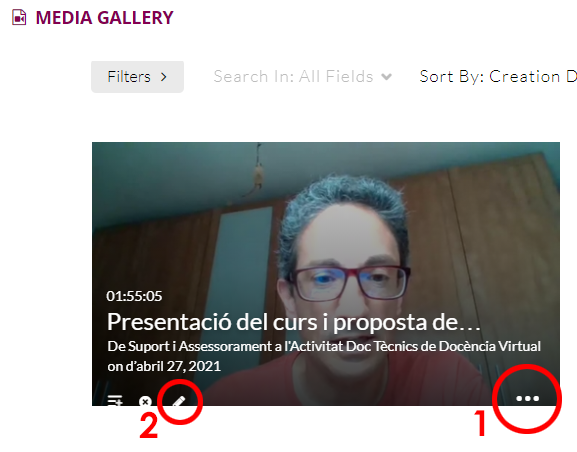 Where to find recordings of video conferencing sessions?
You must first access the "Media Gallery" tool that you will find in the subject space to which the recording belongs.
Then, in the "Media Files" tab, you can find all the recordings, and you can edit them by first clicking on the three-dots icon (marked with a 1 in the screenshot) and then on the edit icon (marked with a 2 to capture).
How to keep recordings from deleting?
We are currently preparing the protocol to be followed to preserve the videos and prevent them from being deleted at the end of each semester. We will update this section with the relevant instructions before the system becomes operational.
Edit, organize and modify recordings
If you want to learn more about how to expand the media capabilities of your stored recordings in My Media and Media Gallery, you can access this website's Kaltura section and check our video tutorials or FAQs.